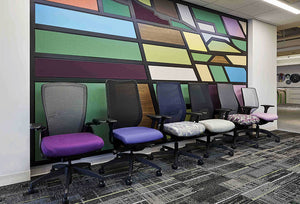 HON Showroom Chairs 4 Seating
Regular price
$0.00
$0.00
---
Social Sharing
Volt seating from HON offers upscale style, full-scale comfort and impressive quality at a surprisingly affordable price. Generous seat and back cushions fit almost any body. The design has a geometric flair. The adjustments are easy to use. Looks sharp, keeps people comfy, and costs less.
With three back materials, synchro-tilt control and an optional adjustable lumbar support, Solve answers the need for a higher level of personalization. The 4-Way Stretch mesh back provides responsive support and a softer fit. The geometric ReActiv back flexes and moves with the user to provide a firmer fit, and an upholstered front can be added to increase support and thermal comfort. Solve helps anyone achieve optimal balance and alignment, making it an ideal solution for everybody.
No matter who you are, how you work, or where you work, Ignition seating from HON fits. Designed by Wolfgang Deisig, Ignition supports every body type, work style and office activity. Three adjustable back heights, two seat sizes and four arm styles fit the 5th to the 95th percentile. Three tilt controls support collaboration and computing. Ignition fits other places, from the lab to the lobby. Select from mesh or upholstered backs. The quality fits big business, and the price fits small budgets, making Ignition a fitting solution.
Endorse is The HON Company's most adaptable collection. Endorse can be tailored to almost any setting: executive offices, workstations, conference rooms and visitor spaces. Endorse also enriches the look of the facility, with streamlined shapes and outstanding fit and finish.
Nucleus seating from HON delivers comfort from the inside out. The lean, sculptural seat conforms to everyone's unique support needs. The back flexes with the spine. Nucleus adapts to fit legs, shoulders and weight using easy-to-reach controls. The responsive synchro-tilt mechanism keeps the seat level and the chair stable as the back reclines, and locks in four positions.
With the genuine, purposeful design of Ceres seating, HON offers a superior sitting experience - and a stylish, beautiful chair. Adjusting the Ceres work chair is simple and intuitive. A stackable Ceres multi-purpose chair rounds out the line. All Ceres models are available fully upholstered or with a 4-Way Stretch mesh back, available in five colors.