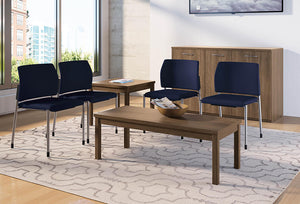 HON Accommodate 10500 Series Preside Reception Area
Regular price
$0.00
$0.00
---
Social Sharing
HON Accommodate is a smart way to welcome visitors in cafes, common areas and private offices, while also supporting the changing needs of multipurpose and healthcare spaces. This family of guest and bariatric chairs and stools is engineered to withstand the most demanding high-traffic areas and multi-purpose applications. The versatile guest chair stacks four high to save floor space, and gangs to form neat rows in welcoming areas, private offices and healthcare waiting rooms. Durable. Comfortable. Flexible. It's as simple as that.
10500 Series desks from HON excels at the fundamentals. One of the bestselling HON collections, it features a variety of sizes, shapes, and storage solutions for any work style or office arrangement. The best-in-class construction and wear-resistant laminate stand up for a lifetime. Details include locking drawers, grommets to route and hide cords, and matching conference and occasional tables. For premium quality on a moderate budget, 10500 Series is the solution.
Compatible with all HON desk lines, the Preside conference series is a broad, versatile solution for collaborative meetings and presentations. It is designed to embrace technology with a variety of options for displaying audiovisual equipment, supporting data and power, and routing cables. From larger conference rooms to smaller common areas, the integrated technology and added leg room enhances collaboration. With Preside, it's easier to keep everyone connected.