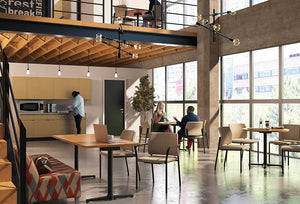 HON Hospitality Accommodate Arrange Cafeteria & Lounge
Regular price
$0.00
$0.00
---
Social Sharing
Hospitality tables from HON deliver selection, style and value for cafeterias, breakrooms or meeting rooms. Multiple top shapes fit the available space. Dozens of laminate and edgeband combinations create distinctive effects. Bases are available in standard or standing heights.
HON Accommodate is a smart way to welcome visitors in cafes, common areas and private offices, while also supporting the changing needs of multipurpose and healthcare spaces. This family of guest and bariatric chairs and stools is engineered to withstand the most demanding high-traffic areas and multi-purpose applications. The versatile guest chair stacks four high to save floor space, and gangs to form neat rows in welcoming areas, private offices and healthcare waiting rooms. Durable. Comfortable. Flexible. It's as simple as that.
Break away from the workstation and stay productive with HON Arrange tables. With three different bases ranging from seated to counter to cafe height, you have the flexibility to bring people together around stools or chairs. The traditional X-base can be dressed up with a circle or soft square base cover, and is available in one of three HON finishes designed to coordinate with other HON furniture. The four table top shapes come in a wide variety of sizes, and are made from durable woodgrain or solid color laminate. Wherever and whenever you need a change of scenery, it's time to Arrange.