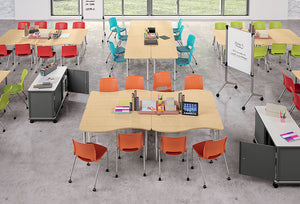 HON Build Motivate SmartLink Tables
Regular price
$0.00
$0.00
---
Social Sharing
Working, learning, sharing, training - today's active spaces are constantly adapting to the new ways people use them. With five interchangeable table shapes that can be arranged in a variety of creative ways, Build tables are always at the center of the action. By providing gathering places that support every type of work, it's easy to see how Build tables create the foundation for a more productive environment.
The Motivate collection of products from HON, including tables, seating and presentation tools, work seamlessly together to provide a comprehensive solution perfectly suited for any collaborative environment. The way people work is constantly evolving, and Motivate provides comfort, flexibility, technology and quality they need to get things done.
The modern classroom is constantly evolving. Research shows that students are learning together, working in groups and interacting with peers. Teachers are even joining in, rather than instructing from the front of the room. This advancement in learning makes the ability to adapt and change throughout the day a critical aspect of learning. It stimulates thinking, allows for greater interaction and supports a variety of teaching styles. Through our Voice of the Customer Process, HON discovered that most classroom furniture is not set-up to handle this type of change. That's why we created SmartLink, a holistic collection of desks, chairs, storage and presentation tools designed to keep students and teachers organized, energized and attentive throughout the day.