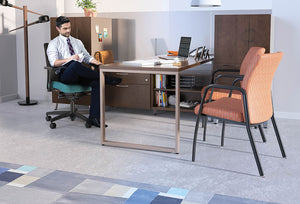 HON Contain Ignition Flock Voi Desks
Regular price
$0.00
$0.00
---
Social Sharing
Contain is a versatile, everyday metal storage system that ties an entire office together. Whether used independently or combined with Accelerate, Abound or Voi, the flexible design increases workspace planning freedom and maximizes footprints. With optional bench cushions that invite collaboration, Contain is a durable, distinctive collection that brings people together.
No matter who you are, how you work, or where you work, Ignition seating from HON fits. Designed by Wolfgang Deisig, Ignition supports every body type, work style and office activity. Three adjustable back heights, two seat sizes and four arm styles fit the 5th to the 95th percentile. Three tilt controls support collaboration and computing. Ignition fits other places, from the lab to the lobby. Select from mesh or upholstered backs. The quality fits big business, and the price fits small budgets, making Ignition a fitting solution.
Wherever people migrate within a space, Flock is designed to support their needs. With a full collection of comfortable mobile elements that work seamlessly together, you can make the most of every square inch of your space. The combination of seating, tables and ancillary products help people interact with each other, challenge one another, and receive the support they need.
The style you want and the value you need combine to create a workstation you'll love. Layered worksurfaces, practical storage components and compact footprints optimize your available work space. Easy-care laminate resists scratches, stains and spills. Simple, straightforward assembly.