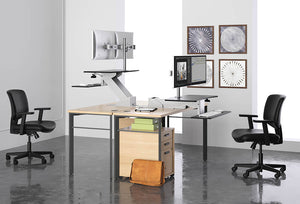 HON Coordinate Manage Volt Sit-To-Stand
Regular price
$0.00
$0.00
---
Social Sharing
Achieve the exact worksurface height you desire with HON Coordinate Height Adjustable Base.  Supporting the increasing popularity of sit-to-stand workstations and tables is becoming a crucial element of today's organizations. HON Coordinate Height Adjustable Base automatically adjusts to the desired height without putting strain on the user. The base includes a motor-activated lift that attaches to any HON worksurface between 48"W and 72"W, putting the user in the control of their environment.
Whether outfitting a new office or expanding an existing one, it's never been easier to Manage a workspace. Manage is an affordable collection inspired by the needs of small businesses. Its concise offering includes all the essential workstation components, such as desks, storage and simple space division solutions, and can be quickly and easily set up to support open plans, semi-private or private offices. With an ideal combination of style, performance and affordability, Manage is ready to handle today's fast-paced business demands.
Volt seating from HON offers upscale style, full-scale comfort and impressive quality at a surprisingly affordable price. Generous seat and back cushions fit almost any body. The design has a geometric flair. The adjustments are easy to use. Looks sharp, keeps people comfy, and costs less.