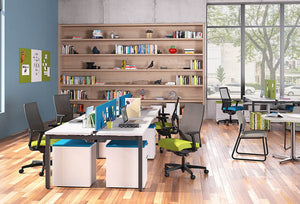 HON Empower Ignition Voi Contain Arrange Bull Pen
Regular price
$0.00
$0.00
---
Social Sharing
Everyone can use a little boost. That support to help you reach your full potential.
That's where Empower benching comes in. It gives everyone the freedom to work their way — with more personal space, more adaptability and height-adjustability, integrated technology, and access to team members. Because when people feel empowered, incredible things happen.
No matter who you are, how you work, or where you work, Ignition seating from HON fits. Designed by Wolfgang Deisig, Ignition supports every body type, work style and office activity. Three adjustable back heights, two seat sizes and four arm styles fit the 5th to the 95th percentile. Three tilt controls support collaboration and computing. Ignition fits other places, from the lab to the lobby. Select from mesh or upholstered backs. The quality fits big business, and the price fits small budgets, making Ignition a fitting solution.

Voi casegoods from HON are striking, architectural, and very well built. Voi combines durable steel with solid and woodgrain laminates, using top quality materials and legendary workmanship. Simply select the desired size or shape. Storage components are fully assembled, but support legs are installed on location.

Contain is a versatile, everyday metal storage system that ties an entire office together. Whether used independently or combined with Accelerate, Abound or Voi, the flexible design increases workspace planning freedom and maximizes footprints. With optional bench cushions that invite collaboration, Contain is a durable, distinctive collection that brings people together.

Break away from the workstation and stay productive with HON Arrange tables. With three different bases ranging from seated to counter to cafe height, you have the flexibility to bring people together around stools or chairs. The traditional X-base can be dressed up with a circle or soft square base cover, and is available in one of three HON finishes designed to coordinate with other HON furniture. The four table top shapes come in a wide variety of sizes, and are made from durable woodgrain or solid color laminate. Wherever and whenever you need a change of scenery, it's time to Arrange.