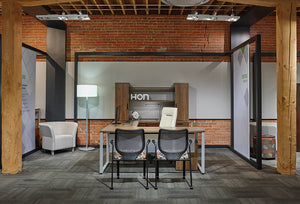 HON Showroom Chairs 5 Seating
Regular price
$0.00
$0.00
---
Social Sharing
10500 Series desks from HON excels at the fundamentals. One of the bestselling HON collections, it features a variety of sizes, shapes, and storage solutions for any work style or office arrangement. The best-in-class construction and wear-resistant laminate stand up for a lifetime. Details include locking drawers, grommets to route and hide cords, and matching conference and occasional tables. For premium quality on a moderate budget, 10500 Series is the solution.
No matter who you are, how you work, or where you work, Ignition seating from HON fits. Designed by Wolfgang Deisig, Ignition supports every body type, work style and office activity. Three adjustable back heights, two seat sizes and four arm styles fit the 5th to the 95th percentile. Three tilt controls support collaboration and computing. Ignition fits other places, from the lab to the lobby. Select from mesh or upholstered backs. The quality fits big business, and the price fits small budgets, making Ignition a fitting solution.
Nucleus seating from HON delivers comfort from the inside out. The lean, sculptural seat conforms to everyone's unique support needs. The back flexes with the spine. Nucleus adapts to fit legs, shoulders and weight using easy-to-reach controls. The responsive synchro-tilt mechanism keeps the seat level and the chair stable as the back reclines, and locks in four positions.