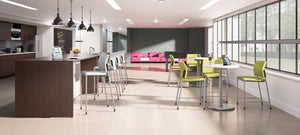 HON Preside Accommodate Arrange Grove Cafeteria & Lounge
Regular price
$0.00
$0.00
---
Social Sharing
Compatible with all HON desk lines, the Preside conference series is a broad, versatile solution for collaborative meetings and presentations. It is designed to embrace technology with a variety of options for displaying audiovisual equipment, supporting data and power, and routing cables. From larger conference rooms to smaller common areas, the integrated technology and added leg room enhances collaboration. With Preside, it's easier to keep everyone connected.
HON Accommodate is a smart way to welcome visitors in cafes, common areas and private offices, while also supporting the changing needs of multipurpose and healthcare spaces. This family of guest and bariatric chairs and stools is engineered to withstand the most demanding high-traffic areas and multi-purpose applications. The versatile guest chair stacks four high to save floor space, and gangs to form neat rows in welcoming areas, private offices and healthcare waiting rooms. Durable. Comfortable. Flexible. It's as simple as that.
Break away from the workstation and stay productive with HON Arrange tables. With three different bases ranging from seated to counter to cafe height, you have the flexibility to bring people together around stools or chairs. The traditional X-base can be dressed up with a circle or soft square base cover, and is available in one of three HON finishes designed to coordinate with other HON furniture. The four table top shapes come in a wide variety of sizes, and are made from durable woodgrain or solid color laminate. Wherever and whenever you need a change of scenery, it's time to Arrange.
Grove is the versatile lounge seating designed to help you greet, meet, focus, relax and accomplish more. This change-of-pace collection delivers the comfort people crave, while encouraging focus and interaction throughout the workplace. Models include a single seat, two seat, three seat, and two seat with table - all with three arm style options and accessories that support connectivity and collaboration. Grove has the look you're going for, and the comfort and versatility people have been waiting for.