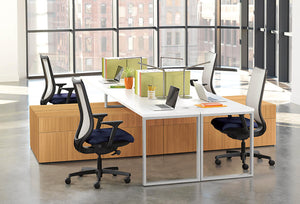 HON Voi Nucleus HLED2 Bull Pen
Regular price
$0.00
$0.00
---
Social Sharing
Voi casegoods from HON are striking, architectural, and very well built. Voi combines durable steel with solid and woodgrain laminates, using top quality materials and legendary workmanship. Simply select the desired size or shape. Storage components are fully assembled, but support legs are installed on location.
Nucleus seating from HON delivers comfort from the inside out. The lean, sculptural seat conforms to everyone's unique support needs. The back flexes with the spine. Nucleus adapts to fit legs, shoulders and weight using easy-to-reach controls. The responsive synchro-tilt mechanism keeps the seat level and the chair stable as the back reclines, and locks in four positions.
It takes more than a desk and a chair to be productive. Today's workspaces are designed around multitasking and maximizing every inch of space. This means surrounding yourself with workplace tools that help you do more with less. Storage solutions that help you pile, stack and organize. Technological tools that put everything within arm's reach, and cord management that keeps it all neatly tucked away. Ample lighting whether working day or night. Options for turning a fixed desk into a sit-to-stand workstation that offers a healthier way to work. HON workplace tools provide the finishing touch on any high-performance workspace.